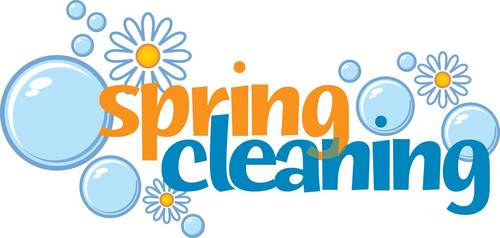 Today is the first official day of Spring! Below are a few tips to help you with your spring cleaning. Don't try to tackle everything in one day, take it one day at a time and enjoy this beautiful weather.
Wash Windows – Be sure to wash windows on a cloudy day and not a sunny day because the sunshine will make the wash dry to fast and you'll have streaks.
Sliding Glass Doors – Scrub those tracks especially before all the entertaining guests you will be doing with spring and summer approaching. The best way to clean those tracks are with an old dry toothbrush to loosen the debris and then suck up with your vacuum hose and finish off with a wet sponge.
Overlooked Spaces – Once a year, you should give your baseboards, door frames and walls a good scrub. You can wash with a sponge using little dab of liquid dishwashing liquid mixed in warm water.
Carpets – You should have your carpets professional cleaned every 12-18 months to maintain the life of your fuzzy floors. You can hire a pro or do it yourself with a professional carpet cleaner.
Clean Under Furniture and Behind Appliances – Grab a friend and move the sofas, chairs and appliances so that you can vacuum those hard to reach areas.
Freshen Furniture - Restore those leather couches and chairs with the appropriate cleaner and conditioner. For wood furniture you can mix up your own solution using ½ tsp of olive oil and a ½ cup of vinegar or lemon juice in a spray bottle.
Bedrooms – rotate and flip mattresses, wash blankets and comforters, clean those pillows, wash mattress pads, wash and dry clean rugs.
Bathrooms – Go through cabinets and safely discard expired products, etc. Replace worn out rugs, shower curtains or they may just need a good washing.
Kitchen – Take time to clean out your pantry and organize. Wipe down shelves. Clean fridge and freezer. Discard stale spices. Vacuum the cooling coils under or behind your fridge.
Window Treatments – Go over your curtains with the upholstery attachment on your vacuum. To remove dust from sheer curtains put them in the dryer on low with a fabric softener sheet.
Light Fixtures – Dust off those fixtures and bulbs. Don't forget the ceiling fans.
To clean really nasty bulbs you can use a dab of vinegar.
Get Organized – Time to go through and throw out the items not used or needed.
Safety Inspection – Test the batteries in the smoke and carbon monoxide detectors. Make sure you have a usable fire extinguisher that's not expired.
Exterior – Freshen the look of your home with some paint. The average paint job last 10 years if done right the first time. If your home doesn't require a full paint job, consider some touch up areas. Pressure washing not only makes your home's exterior and windows look good but also prevents the growth of mold and mildew that feed on grime. Clean and repair gutters and downspouts every spring. And lastly make sure to clean those outdoor chairs and furniture before the entertaining begins.